Recently I have been researching some of Microsoft's trends and some of Satya Nadella's strategy and came over this article a few months old from cnet (for the full article click here) which explains where the company's focus is and the reason for the great Cloud first, Mobile first vision.  Below is a small graphics that illustrates this – where do you think your strategy and your company's vision fits into this?  Are you looking at any of this technologies: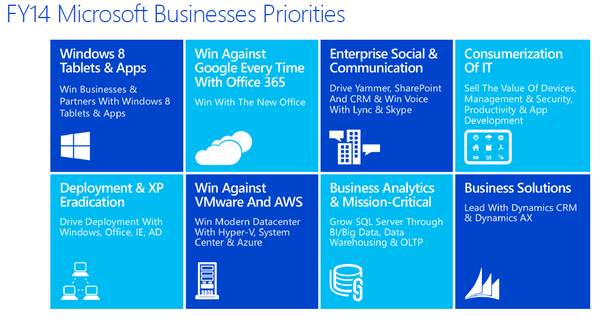 For me my interested, skills and focus are around the following:
Windows 8 Tablets – for me here the focus is around how the hardware market are going to utilise Windows 8 (bring on 8.2 BTW as a menu is back) to remove the laptop & tablet (or fablet!) 2015 will be the focus on looking at Windows 10 and seeing if the Windows 7 Enterprises will make a 7 – 10 jump or Windows 7 ate ("8) 9 to give 10!!  get it..!!
Office 365 – The SaSS offering from Microsoft that originated many years ago it BPOS and now O365.  This is a very strong platform for all businesses, large or small (and individuals) and a platform I have very keen this.  I can see this sitting and running on Microsoft Azure at some point in 2015.
Enterprise Social – I am starting to run a small pilot at an enterprise to see how the users will adopt this and what the take would be from senior executive members.  For me this is about SharePoint, Yammer and Lync working in harmony together and using it from team collaboration (both business and social) but also about making static intranets more interactive and dynamic.
Consumer IT – Well I see BYOD turning into Desktop-As-A-Service and then really it does not matter what technology end users bring in as you have centrally secured your desktop estate, close to your applications.
Hyper-V – Hypver V is catching VMware quickly and when you carry out a cost benefit analysis you may be surprised on the VMware support costs alone, let alone the up front license costs.