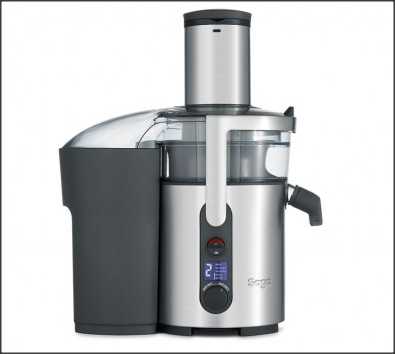 I have just purchased the Sage Juicer Plus from Amazon, in an effort to get my 5+ a day, now for those of you that know me fruit is not really my thing, only because my range of appetites is Apple, Orange and Banana.  So having tried this last night I thought I would do a mini review as I spent over 2 weeks researching whether to get this or the Philips HR1781 from JuiceMaster.com.
We had brought a Smoothie but unfortunately this got refunded due to being out of stock, which was a real shame for crushing up the ice – I did not want to put into this machine just in case.
Sage offer a great warranty on the machine 2 years + 3 additional for the motor, so this will last for long time and remember you may, like me think this is expensive but in comparison getting in effect lots of apples, ginger, celery, oranges (and the list can go on) all in a nice, refreshing simple drink cannot be beaten – it is your health after all….!
Although fairly expensive it is a great machine with a nice LED (geek in me!) read out, the parts are easy to change and thus very easy to clean, the variable speed  limits are designed for different types of fruit and I agree the various You Tube videos from Heston Blumenthal are spot on I am really pleased with this.
The pulp bin is a great fit but us in the UK with food recycle bags, just put this straight into the bin and recycle, job done..!  We have only tested hard fruit and vegetables at this time but I will write some follow up posts on the types of recipes myself and our family we test, are plan for this at the moment is:
Out of the 3 books we have purchased short list to 10 juices first and test these.
Get my test buds used to them.
Look at a 3-5 day detox.
Combine this with the 5:2 Diet.
Add smoothies into the mix.
Enjoy.
So next will be a Smoothie review if I can get the model I am looking for.  For more details check out Sages Facebook page – https://www.facebook.com/SageAppliances