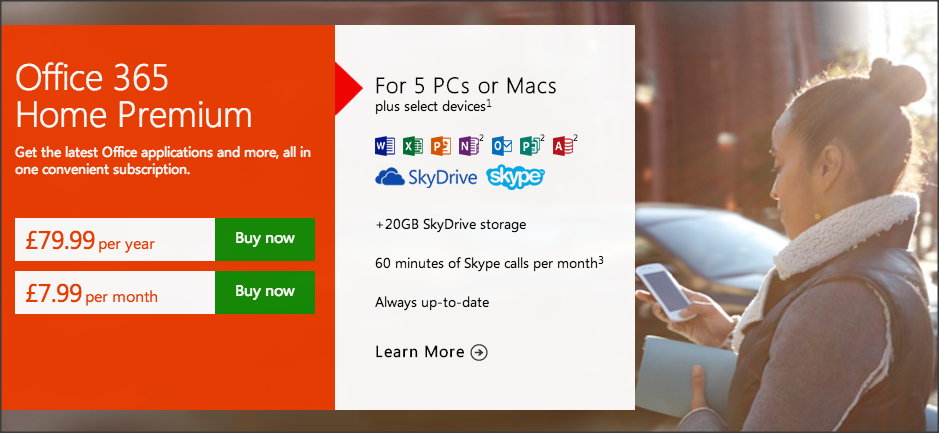 And so Microsoft has done it, not only updating its Office 365 platform to the latest backend (Exchange 2012,  Office 2013 etc..) and have now released a home premium .  A subscription based service, monthly or yearly and includes a whopping great deal (below) and licensed up to 5 devices:
A subscription based service for up to 5 devices to use Office 2013 (PC or Mac).

The suite includes Word, Excel, PowerPoint, OneNote, Outlook, Publisher and Access – to me that is the same as Office 2013 

Professional

 – yes I said professional.
20GB of SkyDrive storage which as you know is fully integrated with the Office 2013 suites.
Office On-demand – lets see this as Office Web Apps rebadged.
Now get this – 60mins of Skype talk each month to 40+ countries – so no more Lync as we can see where Microsoft is going with this merging the 2 products or either focusing Lync for the Enterprises and Skype for the home / SMB.
To give you an idea of the pricing and compare to the other versions of Office 2013, although home premium is a yearly cost I would asume the benefits of this would be free upgrades when Office 2015 / 2016 comes out.  To be this makes are great proposition and gives you an idea of where Microsoft is going.  All I would say is be careful you know where your Skydrive data, but check this:

To get a comparison of the full feature set then please see the new Microsoft Office 365 Home Premium here.